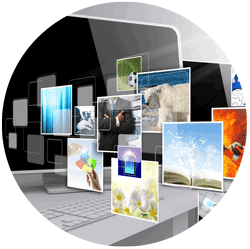 Every company or organization needs a professionally designed modern website. A website is a vital marketing and customer service tool. Equally important to the visual design is what's behind the design so that it is ranked as high as possible on the major search engines.
The cost for an entry level site are extremely cost effective so it is hard to image why a company of any size would not have a website. Over 90% of purchase decisions start with a search engine search. If you are not making a good impression on the web, you are only selling to 10% of your potential market. The larger the item or commitment, the more online research people will do.
Our e-commerce solutions will empower your business to realize its full potential in a marketplace without limits.
We can also help you with your social media presence with a Facebook Fan Page, Instagram, Twitter, etc.