Technology Consulting Services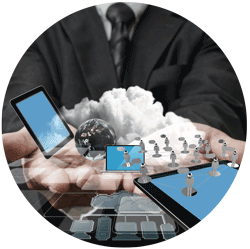 Frontier Solutions brings decades of experience in implementing technology in small to mid-sized business and local governments. We provide our clients with the expertise to get the most out of today's constantly changing technology.
Our services span a full range of Information Technology (IT) services including infrastructure support, web design, applications support, custom software design, mobile device management (MDM) and both on-site and remote IT operations.
Let us help you get the most out of your technology dollars by performing an IT assessment and preparing a comprehensive short and long term IT strategy. Without a plan, you may be wasting money on the wrong technology or simply not spending money on the right technology for your business needs.
Most small to mid-sized businesses simply don't have the in-house expertise and Frontier Solutions can partner with you to become your virtual IT department. We can handle everything from the mundane process of adding or removing users, to the nerve racking job of getting your network back up after a catastrophic failure.